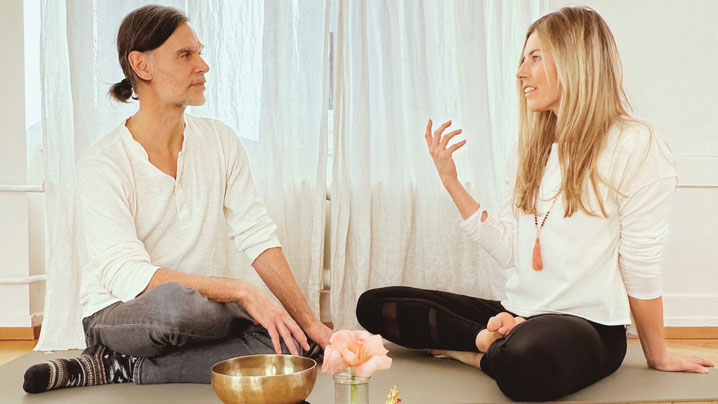 With the combination of yoga, awareness training and a vegan, gluten-free diet, you will find the space and time to recharge and regenerate. And all this in an enchanting place in the middle of the unspoiled nature of Mallorca. This retreat speaks to all your senses and brings body, mind and soul into harmony. Join our holistic program which is relaxing, regulating and yet activating. Be inspired to integrate more balance, joy and vitality into your life. 
When was the last time you allowed yourself a conscious time-out and simply took care of your health and your needs? And with lots of fun, enjoyment and in inspiring company?
Everyday life often leaves us too little time to pause and feel what we need right now. Or we know what we need, but do not find the space and time to implement our resolutions. This is exactly why time-outs are so important for our well-being, our health and our mental balance. Because they give us the opportunity to feel our needs, consciously let go of old programs and recharge our batteries, so that we can return to our everyday lives strengthened and with a new focus and clear strategies.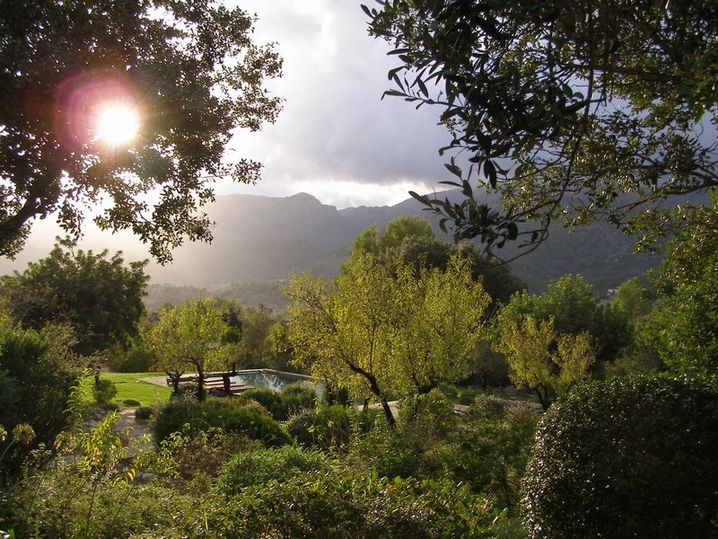 In this retreat you have the unique opportunity to put yourself in the experienced hands of Michael Hamilton and Linda Maria Keller. We will be having the retreat location "La Serrania" exclusively to ourselves. This will gives us the opportunity to completely detach from everyday life, recharge our batteries and start fully charged into spring.
We will be starting our day in silence (until after brunch). If you want you can activate your system with some hot lemon or ginger water, some tea or even a jump into the cold water.
The morning practice includes an empowering asana class, some awareness practice and breath work. The practice is targeting the focus of this week: Renew and recharge, so that you will be able to "live a bright life" to the fullest. 
After the morning practice a brunch awaits you. The hours between brunch and dinner are at your free disposal. You can lie by the pool and read, go for a walk or just be. This is exactly what this quiet and beautiful place invites you to do. You can also book an additional coaching session with us. These are on a first come first serve basis and will be at extra charge. 
If you want to go on excursions, we recommend renting a car at the airport upon arrival.
After dinner there will be a relaxation session (e.g. sound healing, yin yoga, yoga nidra etc.) so that you can enter the night's rest deeply relaxed.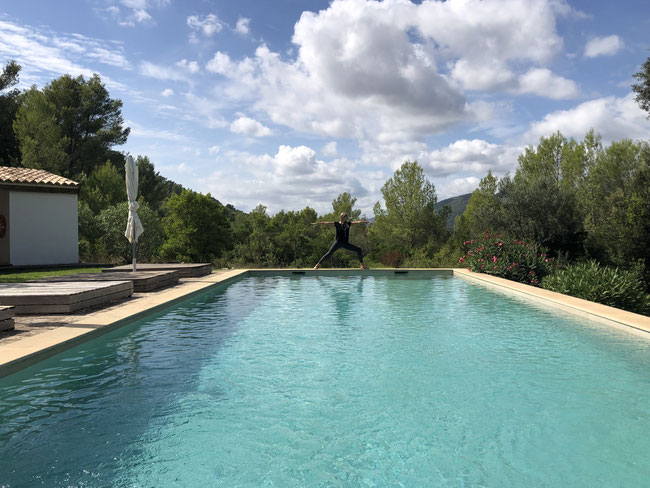 ---
from 13:00 Check-in
16:30 Welcome
18:00 Dinner
20:00 Opening Circle
8:30 - 10:30 Morning practice
11:00 Brunch
18:00 Dinner
20:00 Evening session
08:00 Closing Circle
10:00 Breakfast
11:00 Departure
---
Dates
17. - 23. March 2024
Check-in Sunday from 1 p.m. - start at 4:30 p.m.
Check-out Saturday 11 a.m.
Where
Mallorca, Spain
What
Prices include
6 nights accommodation in chosen category (single or twin occupancy) and ecotax
Teaching activities 
Tea bar with snacks
Brunch and dinner, vegan and gluten-free
Alcohol free drinks
WhatsApp Group for an exchange before and after the retreat 
Prices do not include
Fights to and from Palma de Mallorca Airport
Airport transfer
Excursions
Travel insurance
Lead by
Michael Hamilton und Linda Maria Keller
Language
This seminar will be held in English. However, Linda Maria is also fluent in German (if you have any questions).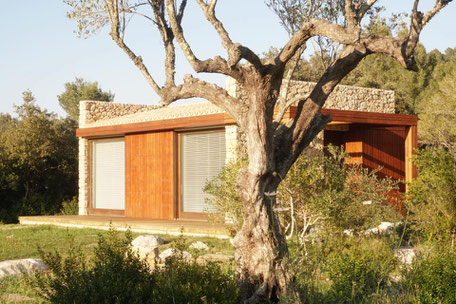 Prices
 Early bird price until 31st of December 2023:
Double occupancy: Price per person CHF 1'490.00
Single room*:  CHF 1'990.00
 Regular prices from 1st of January 2024:
Double occupancy: Price per person CHF 1'690.00
Single room*: CHF 2'190.00
*There are 3 rooms with double beds that can be used as single rooms, on a fist come first serve basis. The other rooms have two twin beds each. All rooms have their own bathroom, mostly with bathtubs.
For booking and cancellation terms please see GTCs.
Optional
Additional coaching sessions with Michael or Linda Maria for CHF 150.-  / session
Massages open request for €90 / 60 minutes and €130 / 90 minutes
The number of participants and rooms is limited, early booking is recommended!
---
Morning classes include some dynamic asanas, breath work and meditation. Evening sessions are focused on restorative postures and relaxation techniques. 
Some yoga experience is an advantage for this retreat. It is recommended to have practiced yoga under guidance before and you should feel able to move for 90 minutes.
Yoga mats and tools will be provided, but you are also welcome to bring your own yoga mat. 
No previous experience is needed for the guided meditations. Experienced practitioners may deepen their practice during this week. If the group dynamics allow it, the meditation "buffet" may also be expanded with some visualization exercises and trance meditations, and other similar exercise. Don't worry if you haven't connected to spirit before, Linda Maria is an experienced teacher and will open this sphere in a playful way to everyone who is interested.  
We are happy to provide you with individual coaching sessions as needed or advise you even more individually on your practice. You are welcome to book individual sessions with us.
Enjoy delicious and nurturing food, which will be in this week all vegan and gluten-free. If you don't usually full such a diet, this week will also be slightly detoxifying for you. This is a great opportunity to replenish your mineral depots. If you are joining us for the fasting retreat the week before, then you can use this yoga week ideally to build up and stabilize a healthy diet.
What is a vegan nutrition?
Vegan nutrition means cooking and baking completely without animal products. Discover how diverse and delicious vegan cuisine can be. And maybe you'll be taking a few inspirations home with you.
What does gluten-free mean?
This week, we are avoiding gluten-containing grains such as wheat, spelt, rye and the like. Gluten-free carbohydrates include potatoes, rice, buckwheat, millet, gluten-free oats and corn, as well as all starchy vegetables and legumes such as carrots and beans.
Will I feel full if I eat this way?
Don't worry, a vegan and gluten-free diet does not mean that you get (too) little to eat. In addition, you always have access to our snack and tea bar, where you can find fine deliciouse snacks for the little hunger in between.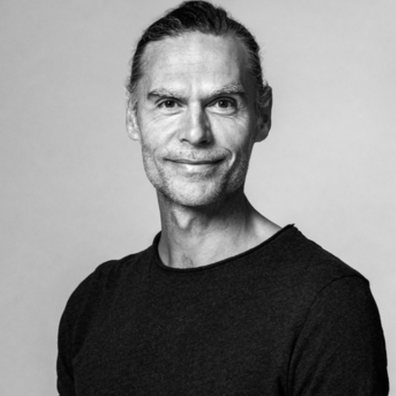 Michael Hamilton is a committed yoga and meditation practitioner who teaches mindfulness and compassion using the methods of Yoga, Buddhism and Psychology.
In addition to yoga, Michael is a coach in essential psychology, which combines skillful methods developed in psychology with the Buddhism teachings on wisdom, in order to better facilitate development and healing in individuals and small groups.
Michael lives with his wife Sabine Glück in Ticino, Switzerland.
For more information please see www.michaelhamiltonyoga.com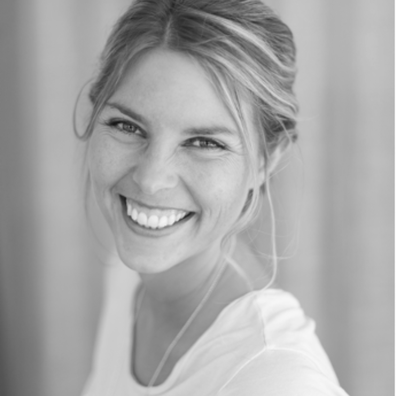 Linda Maria Keller has been communicating with spirit since childhood. The eight limbs of yoga help her to connect the spiritual- with the physical world and build a frame around her practice. She compassionately teaches yoga and meditation, building bridges between different philosophies and world views.
In addition to yoga, Linda Maria is a business- and life coach, and has a broad knowledge about nutrition. She believes strongly that we have to look at the human being in a holistic way and thus combines many techniques in her coachings and trainings. 
Linda Maria lives with her husband Aaron Keller on the upper part of Lake Zurich, Switzerland.
For more information please klick here.
The retreat takes place in the foothills of the Tramuntana mountain range in the north of Mallorca.  La Serrania is an enchanting place, ideal to unwind. Surrounded by oak forests and olive groves and built on limestone, the clean and serene architecture blends completely into the Mediterranean environment, creating a sense of harmony and wholeness surrounded by four and a half hectares of unspoiled nature. 
The magnificent garden with its many hidden corners, the lounge area and the terrace invite you to relax and regenerate. Whether the pool can be used in March depends on how daring you are to jump into the cool water. But the real icing on the cake is the fully equipped yoga room with a beautiful garden view. A real luxury for our practice.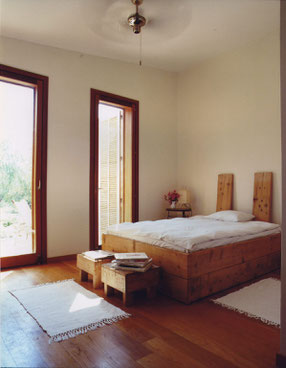 All rooms are bright, friendly and tastefully decorated. They are characterized by simple and clean lines. Each room has its own bathroom and a private terrace or balcony.
For healthy and deep sleep, there is no wifi in the bedrooms. Local materials and craftsmen were used in the construction and furnishing of La Serranía. The bedding and towels are 100% linen and cotton, and only biodegradable cleaning and laundry products are used.
There are a limited number of single and double rooms. Book as soon as possible to secure your favorite choice!
If you would like to share a room with another participant, please get in touch. We will try to match you up with someone.
By plane to Palma de Mallorca and continue by car (at your own expense).
Retreat Center La Serrania
50 km from the airport Palma
10 km from Pollença
20 minutes from the closest beach
Prices do not include your flight to Mallorca and the transfer to the retreat location. We recommend renting a car. A taxi from the airport to the finca costs about 90 euros. We will be happy to put you in contact with other participants (WhatsApp group) so that you can share a cab or rental car. 
If you wish, we can also organize a transfer with a minibus (price on request).
---
---
In English - for German version please see below 
The reservation is valid only after payment of the deposit of CHF 650. The deposit is neither refundable nor transferable. The remaining fee is to be paid within 20 days or, in case of a last minute booking, at latest one week before the retreat.
Cancellation policy:
A cancellation must be made in writing (email). The deposit is neither refundable nor transferable. In case of a cancellation of 90 days or less before the start of the event, the participant will be responsible for the total cost of the retreat. Full refund will only be given if the cancelling person provides a substitute participant and this person has paid the full course price.
In case of cancellation by the participant during the retreat, there is no right to any reduction or refund. Please note, this also applies to illnesses (including Covid).
If the retreat has to be cancelled, the total amount of the retreat will be refunded. In any case, travel expenses will be the responsibility of the participant. We recommend travel cancellation insurance.
With the booking you accept the terms and conditions. We would like to point out that during the retreat pictures (including group photos) will be taken occasionally, which can be used for the purpose of advertising on the website, associated social media channels and other promotional materials. If you do not agree to this use, please let us know on site.
Die Reservierung ist erst nach Einzahlung der Anzahlung von EUR 650 gültig. Die Anzahlung wird weder zurück erstattet noch ist sie übertragbar auf eine andere Person. Der volle Retreatbetrag ist innerhalb 20 Tage nach Erhalt der Rechnung fällig, oder, bei Last-Minute Buchungen, spätestens eine Woche vor dem Retreat.
Stornierungsbedingungen:
Eine Stornierung muss schriftlich (E-Mail) erfolgen. Die Anzahlung wird weder zurück erstattet noch ist sie übertragbar auf eine andere Person. 
Im Falle einer Stornierung von 90 Tagen oder weniger vor Veranstaltungsbeginn, trägt der Teilnehmende die Gesamtkosten des Retreats. Volle Rückerstattung erfolgt nur, wenn die absagende Person eine teilnehmende Ersatzperson stellt und diese den vollen Kurspreis entrichtet hat.
Im Falle eines Abbruchs durch den Teilnehmenden während des Retreats besteht kein Anspruch auf Ermässigung oder Rückerstattung. Achtung, dies gilt auch für Krankheiten (inklusive Covid).
Falls das Retreat annulliert werden muss, wird der Gesamtbetrag des Retreats zurückerstattet. Die Reisekosten gehen in jedem Fall zu Lasten des Teilnehmenden. Wir empfehlen eine Reiserücktrittsversicherung.
Mit der Buchung akzeptierst du die AGB. Wir weisen hiermit zusätzlich darauf hin, dass während des Retreats gelegentlich Fotos (u.a. Gruppenfoto) gemacht werden, die zum Zweck der Bewerbung auf der Webseite und verbundenen Social Media Kanälen sowie weiteren Werbemitteln verwenden werden können. Solltest du mit der Nutzung nicht einverstanden sein, teile dies uns bitte vor Ort mit.
---